5 of the Best Golf Insoles for Performance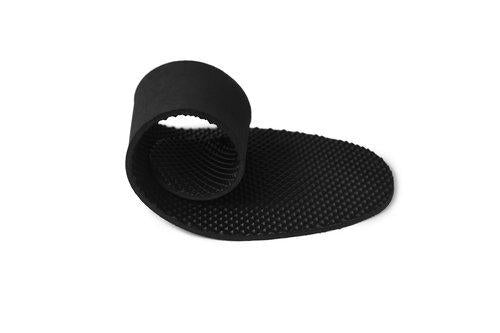 The popular game of golf originates from Scotland in the 15th century. The goal is simple: to knock golf balls into targets in the ground. Of course, the execution is much harder than it looks. Ultimately, the game is fun and challenging, but also very scientific. Golfers require good posture and balance as they aim with their clubs. In fact, the positioning might be the deciding factor in a game of golf. 
Golf enthusiasts are known to invest in the best accessories and apparel, with hopes of improving their performance on the course. These purchases range from lightweight clubs with enhanced swing power, down to the comfiest golf shoes. Unfortunately, some players may overlook the significance of insoles.
These thin layers of foot support can make all the difference in your overall posture.  
Quality insoles offer a wide range of benefits such as arch and heel support, comfort in walking and enhanced sensory stimulation. Choosing the right insoles will provide optimal bodily alignment and stability to help you achieve those winning strikes. Below are our top 5 golf insoles for performance.
The CurrexSole line of insoles was specially built for the sporting world. Their EdgePro design was specially designed for golfers through maximizing foot control. CurrexSole EdgePro insoles can be fitted into your golf shoes without leaving a thick and uncomfortable bump, as observed in some over-the-counter insoles. They are easily trimmed with scissors to suit the dimensions of your golf shoes. These insoles are available in three types of profiles: low, medium to high, which depend on the shape of your foot arch.
CurrexSole EdgePro provides reinforced arch support that prevents bone misalignment during motion. The product also features Freeflex, a memory foam surface derived from bamboo charcoal, which maintains humidity and moisture levels for odorless use. CurrexSoles' dynamic arch technology (DAT) reduces foot fatigue, which is responsible for muscle cramps and pain caused by prolonged movement.
An affordable full-length insole with arch support that comes in a variety of standard sizes. The Powerstep Original Orthotic Insoles were the ones that started it all for the Powerstep line of insoles. They're made to fit most golf shoes and feature an antimicrobial fabric that reduces friction while maintaining the coolness of your feet during the warmest of weather. A soft cushioning covers the entire insole for improved comfort. They have been considered convenient alternatives to custom-fitted orthotics.
Golfers can expect stronger and more stable foot support for their sessions with the Powerstep Original Orthotic Insoles. 
An insole model that provides great foot stabilization. Superfeet Green Premium Insoles feature a unique stabilizer cap manufactured from recyclable polypropylene. The stabilizer cap provides wearers with improved foot control and flexibility. Each insole is manufactured to last a distance of over 500 miles of use. Its advanced heel support alleviates debilitating conditions such as plantar fasciitis. The product also features closed-cell high-density foam support for maximum comfort.
The deep heel cup design is another distinctive feature of the insole. Superfeet insole's unique structure helps in aligning the rear foot during the movement for maximized comfort of the heel, which is the first point of contact with the ground. Superfeet Green Premium insoles provide movement support and consistent bone alignment for your golfing needs.
These durable insoles from the renowned German footwear brand are specially structured to provide longitudinal medial arch support. The specialized support improves bodyweight distribution during the upright posture, which assists golfers readying for their strike. 
Its high-raised flanges facilitate movement control and stability. The Birkenstock Birko Active Arch is finished with a woven mesh topcoat, which wicks sweat away from your skin to improve breath-ability for long-lasting comfort. This is especially useful during those long hours spent under the scorching sun at the golf course. 
Naboso Technology insoles feature a revolutionary system that strengthens the natural connection between proprioceptors of the plantar foot and the brain. With the Naboso method, stability, movement, and control are optimized from the feet up through a method supported by texture research and surface science.
The surface of each Naboso insole is covered with tiny pyramids that provide two-point discrimination (2PD), which stimulates the nerve endings found on the soles of the feet. Each node is spaced out according to the natural gap between each nerve ending. This function has been compared to reading braille. Unlike other insoles, Naboso Technology works by re-establishing natural connections for more permanent and long-term results. The customized fit of the insoles accommodate feet of any shape and size.
What's more, is that the specialized insoles from Naboso Technology can be paired with other insoles for compounded results. The thin insoles function like a second skin that mimics the soles of your feet, enhancing your movement through sensory stimulation.
Naboso Technology insoles go beyond golfing needs. The insoles are also suitable in podiatry treatments for ailments such as diabetic neuropathy, plantar fasciitis, and fall prevention programs.
---