Naboso Success Story: Meet Myrna, Diagnosis MS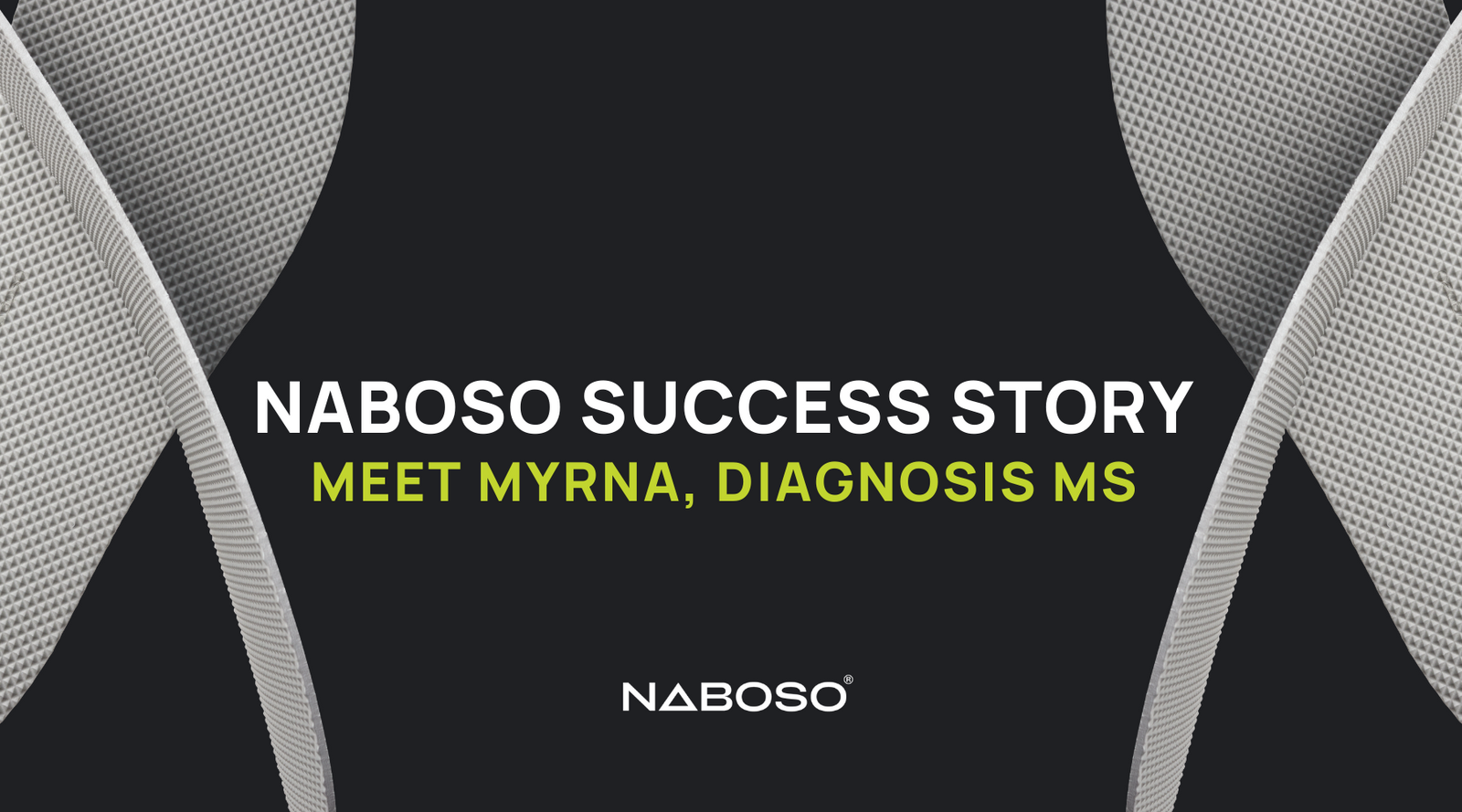 Despite being the CEO of Naboso, I still occasionally answer our customer service calls and emails as I love to hear the stories from our customers. From the nurse who is now able to stand at work without foot pain to the stroke survivor who is learning to walk again, every Naboso story touches me emotionally. 
One success story that we wanted to share with our Naboso family is that of Myrna.
For years Myrna worked as a massage therapist before her 2013 diagnosis with MS.  Due to her background in massage and exercise, she maintained a fairly positive attitude despite her diagnosis. Stating that as soon as she heard she had MS, her initial reaction was "let's get after it in the most holistic way possible"
Nothing had stopped Myrna from doing what she enjoyed, it just took her a little longer. 
But then her foot began to get weaker and gait became less stable. In December 2019 her lesions were spreading throughout her brain and spinal column. The Neurologist said she would be in a wheelchair by 2020.
March 2020 lockdown allows Myrna time to learn anything she could do to improve herself. From webinars and ZOOM yoga to lots of qigong and meditation....then Naboso was doing a study.    
Myrna had actually tried the Naboso Insoles briefly in the past but decided to be part of the Naboso Neuropathy Pilot anyways. The response to the Neuro Insoles is below in Myrna's own words. 
"I received the [Neuro] insoles on Sunday 2/28 and wore them in all shoes, all day, every day. After 5 days I experienced the sensation of wanting to jog to the mailbox. 
I couldn't get the first step but the urge was strong. 
7 days into wearing [the Neuro Insoles] I could jog 3 to 5 steps there and 2 back. 
Day 8 and 9, I could jog a few steps, stop and then restart.   
On the 10th day, I was in a car dealership and I was overcome with the urge and just started running around.  My daughter took a video.
On day 11, I ran a mile nonstop
On day 12, I ran 2 miles non-stop.  No stumbling no tripping
It's been 17 days and I jog every day with no fear of falling, My balance is so great I brought lunch to my daughter and climbed 2 flights of stairs with lunch and drinks in both hands.  It was the same daughter who filmed the jog and she couldn't believe her eyes...And I loved her smile of joy! 
The carry-over effect to barefoot is noticeable. 
The neuropathy is diminishing, drop foot recovering, and I couldn't be in a better place emotionally, and mentally."
***
We are so grateful for Myrna to share her success story with all of us and wanted this to be a story of inspiration.    
Whether you are experiencing chronic pain, recurrent ankle sprains or a loss of balance, we at Naboso are here for you.   We are committed to changing the way people look at movement through sensory stimulation.   
After all, movement is life and life is sensory! 
---