Toe Walking & Tactile Input | Textured Insoles as a Treatment Option?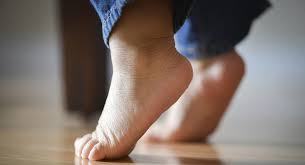 Walking on the toes as a child may be considered a normal phase of learning to walk, however in the child past 3 years old the absence of heel contact at initial contact is not normal.
According to Williams et al. (2010) an average 7% of children present with a toe walking gait.  Any child walking on their toes should be assessed for medical causes of the gait pattern.
Some of the most common causes of toe walking include:
Equinus (structural limitation is ankle dorsiflexion)
Upper motor neuron trauma (cerebral palsy)
Neurogenic factors (autism)
But what if all of the above possible causes are ruled out?
What could be the driver of the toe walking?
This is where the diagnosis idiopathic toe walking (ITW) comes into play.    ITW means there is no known cause for the child's gait pattern and absence of heel strike at initial contact.
Treatment Options for Toe Walking
If there is no known cause for a child's toe walking it makes treatment options difficult. For ITW, most practitioners focus on ankle mobility as the most addressable option.
This means treatment options for these children include:
Physical therapy and manual release work
Stretching and night splints
Botox injections to calves
Achilles tendon lengthening
All of these treatment options have downsides including skin irritation, compliancy and invasive risks of infection and scarring.    Specialists are now looking for new treatment options for these children.  Treatment options that are simple, non-invasive and will have increased compliancy.
New Treatment Options for ITW
Researcher Dr Cylie Williams of Monash University in Australia has been exploring new treatment options that look specifically at the tactile input in these children.   It is proposed that by changing tactile input through the feet, one could change the neurological input and potentially influence the gait pattern.  
Dr Williams' initial exploration into this topic was related to whole body vibration (WBV).   In her prior research she has noted varying vibration threshold in children who are idiopathic toe walkers and those with a normal heel toe gait.   The benefits of WBV are promising to this pediatric population however the only downside is that the effect is short term, temporary and requires a WBV platform such as Power Plate.  
Dr Williams is seeking new tactile stimulation methods and has turned to Naboso Neuro Insoles.   Starting early 2019 Dr Williams will be researching the effects of Naboso Insoles as a simple, non-invasive intervention for ITW. 
Sensory Seeking Children
As the inventor of Naboso Technology and our sensory products, my interest is of course in those children who are sensory seeking and the possible role the Naboso Insoles and Mats can have on the behavior and movement patterns in these children.
Lane et al. (2009) has identified three main types of sensory processing disorders in children with autism:
Sensory sensitive (covering ears to loud noises, restricted food preferences)
Sensory under-responsive (failure to react to pain)
Sensory seeking (rocking, hand flapping, noise-making
Due to the correlation between autism, sensory processing disorders and toe walking the possible application of Naboso for these children is exciting.    As the research around ITW and tactile input continues to be explored we will hopefully have new data to share on this topic.  
In the mean time we encourage any professional working with ITW children to consider the possible role of Naboso Children's Insolesand our Naboso Textured Mats.  
In health, 
Dr Emily Splichal, DPM, MS 
Citations:
Lane, Alison et al. (2009) Sensory Processing Subtypes in Autism. J Dev Autism Disorder 40: 112 - 122. 
Williams, Cylie et al. (2010) Idiopathic Toe Walking and Sensory Processing Disorder. J Foot and Ankle Res  3: 16
---